Fun Factory Amor Review by Miss Melly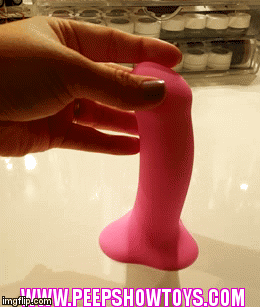 As someone who experiences vaginal pain during intercourse, the Fun Factory Amor silicone dildo intrigued me. I read a lot about it being used for anal play, in addition to vaginally, due to it's length and diameter of 5.3" and 1.4", respectively, and thought this would be a good toy to use.
Starting things off with the review, I want to talk about the packaging. Though it was well packaged, I found it to be somewhat flimsy. In the heat of things, it was frustrating to open. Of course, with any new toy, it was washed with warm water and mild hand soap (we use SoftSoap Antibacterial). Make sure to rinse it well to get all the soap off.
Next up, the texture of the dildo was somewhat unexpected. The only way to describe it is, slightly gritty. Things got started off with some water-based lube, as recommended by Fun Factory. The texture began to create what I would describe as friction. More lube was added and things started to feel better. I'm not opposed to a lot of lube, though it can be messy, so have a towel handy.
The most important factor for me when choosing this toy was the size. Being that it was on the smaller side, when compared to other toys, I felt it was the right decision. The size definitely makes it ideal for a warm up toy for those who tend to be a little tighter in the beginning. I was also intrigued by the curved tip which was designed to hit the g-spot. However, it fell just short of hitting the g-spot unless it was pushed down causing the curved tip to go higher towards the g-spot. With a strap-on, this may not be a problem, but by hand, it's difficult to do due to the suction cup base. While the suction base may be good for the shower, since it is waterproof, that wasn't the reason I chose the Amor. I felt that if it had a base that was more suited for the hand, it would be much easier to use without the need for a strap-on.
Final thoughts on my experience with the Amor dildo by Fun Factory:
This toy would be perfect if the texture was smoother, had a little bit more of a curve. I feel that it is more suited for strap-ons and couples due to the base. As a solo toy, it can be a bit awkward to hold.
Would I recommend it to others? Definitely!
Even though it had a few shortcomings, it was still an enjoyable toy due to the length and diameter, especially for those who are tighter.
Peepshowtoys.com provided the item to Ms. Melly in exchange for an unbiased review.
---